$29.99
❀YISSVIC HEAVY DUTY Cast-aluminum➤ Gardening Tools is made of heavy duty Cast-aluminum, the tool is strong and durable, with a high hardness and no need to worry about rusting and breaking.
❀HANDY DURABLE TOTE BAG➤ The durable tote with multiple pockets is made of solid Terylene 600D, great to hold different kinds of hand tools , which can be cleaned repeatedly and is very durable.
❀ HIGH EFFICIENCY & PROFESSIONAL TOOLS➤ Pruning hears precision-ground stainless steel blade stays sharp, help cutting stems and light branches; Soil scoop with serrated edge make it easy for you to open the bag.
❀COMFORTABLE HANDLE CONVENIENT STORAGE➤ Handle complies with engineering design provides rubberized grips, reduces the pressure on the wrist and hand; Practical handle hanging hole design is easy to store
❀YISSVIC 12 PIECES GARDEN TOOL SETS➤ Includes tote bag and 6 hand tools with Bypass Pruning Shears, Trowel, Transplant Trowel, Soil Scoop, Weeder, Cultivator.24 Months Support
描述
[NEW VERSION WHITE TOTE BAG] –YISSVIC GARDEN TOOL SET -Garden Kit Gifts for Women and Men
13 Pieces Garden Tools Set -Gardening Gifts Tool Set with Trowel Pruners and More-Vegetable Herb Garden Hand Tools with Storage Tote
COMPLETE FUNCTIONAL TOOLS: 6 hand tools are perfect for all your garden needs, such as digging, weeding, loosening soil, aerating and transplanting.
HANDY TOTE BAG: The durable tote with multiple pockets is made of solid Terylene 600D, great to hold different kinds of hand tools.
QUALITY BLADES AND TINES: Sharp blade and tip are made of solid polished aluminum, which are shiny, rust-proof and extremely sturdy.
Hanging Hole: A hole at the top of each handle for clutter-free storage.
Package:1-Trowel,2- Transplanter,3- Pruner,4-Weeder, 5-Hand Fork,6-Hand Rake, 7-Canavas Tote,8-Sprayer Bottle, 9-Duable Gloves,10-Garden Seeder, 11-Garden Tread,12- Plant Labels x 10, 13-Planting Tag x 10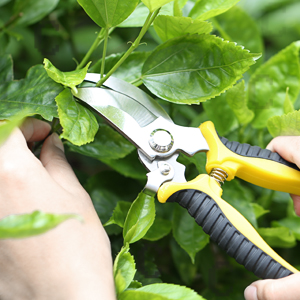 Durable and Anti-Rust Pruner
Sharp blade and tip are crafted with solid and rustproof aluminum, and they will not bend.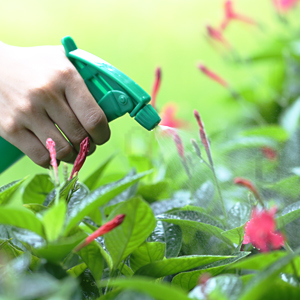 Convenient &Portable Spray Bottle
16 oz Spray Bottle can squirt, spray or mist fluids. You can use it to mix chemical specialties. The solid particles should be filtered from the solution.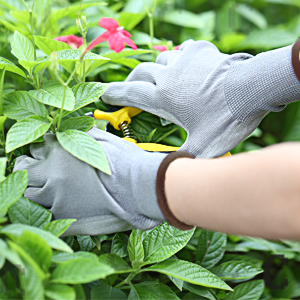 Breathable Nylon Gloves
Good quality to prevent bacteriostasis and deodorant of your hands. Elastic nylon coating allows the back of your hands to breathe freely.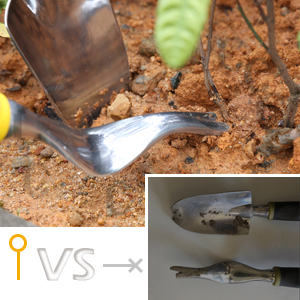 Anti-rust Ergonomical & Comfortable
6 hand tools material is cast-aluminum with soft rubberized non-slip handle.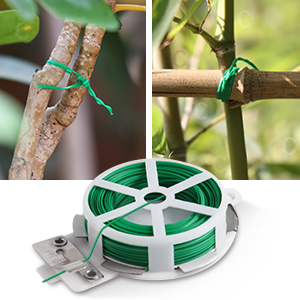 Cutting Off Easily& 99 Feet Thread
You can use the included cutter of this garden thread to cut off it between the gap.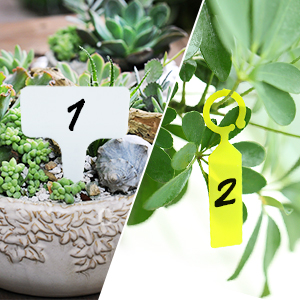 Lightweight and Tote Bag Include
We are the First to have this plant labels included to make your gardening more interesting.