$15.99
6.5inches Large LED Display and 12/24 Hour Setting : With the 6.5″ curved led screen, you can clear see the time at a glance,extremely suitable for elders, children. You can also set it as a 12/24 Hour clock for your preference.
Separate Snooze Button for Bedrooms : If you feel difficult to get up, there is a big and separate snooze button on the top of the digital alarm clock. When the bedside clock alarms, you can harvest a 9 minutes' sleep time with one pat on it, without worrying about pressing other buttons.
6 Brightness Dimmer Meets Different Needs : If you are sensitive to brightness and have a difficulty in falling asleep with the normal alarm clocks for bedrooms, this digital clock with dimmer must be your best choice.
Gentle Wake Up Alarms and 2 Volume Setting : With the gentle alarms and 2 volumes (65dB & 75dB) setting, you and your love ones can enjoy a wonderful wake-up to welcome every new day.
Easy to Setup Clock without Plug: Hours and minutes can be set individually, making it easy to operate. YISSVIC digital clock is a USB powered clock without plug, making it a great gift idea for abroad friends. To display the time,you need to plug it into the USB socket or the spare charging adapter or your laptop and powerbank.
描述
ATTENTION! This clock is not included Power adapter. If you need one with plug, scroll to the bottom product table and order "alarm clock with plug".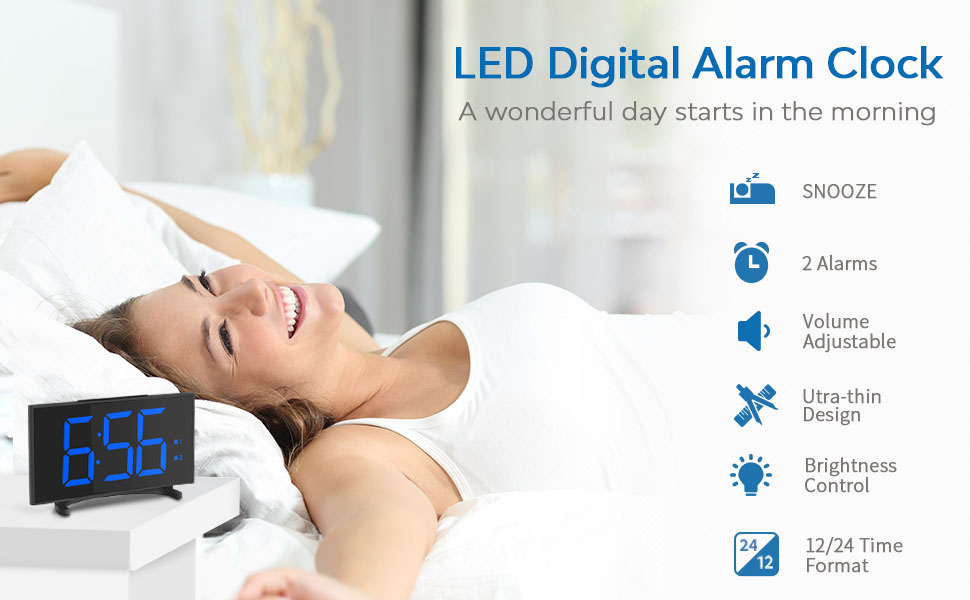 YISSVIC DIGITAL DUAL ALARM CLOCK WITH SIMPLE AND USER-FRIENDLY DESIGN PERFECT FITS FOR YOUR NEEDS
Tick, tock, tick, tock……Those are the sounds which we are used to hear day in and day out, but nowadays, we see more and more digital alarm clock in our lives. Compared to analog clocks, digital alarm clocks are preferable as they keep time more accurately, are much easier to read, and have no moving parts to wear out. They also enable children to grasp the concept of time, and to learn how to tell time more easily than they can with analog clocks.
Now, YISSVIC provide you a new style digital alarm clock, it will be a perfect companion in your family daily life. The clear big blue number showed on the 6.5" Large LED display, ensure time is easy to see at a glance. Bring this simple digital alarm clock home to enjoy easy control and wake up naturally every day!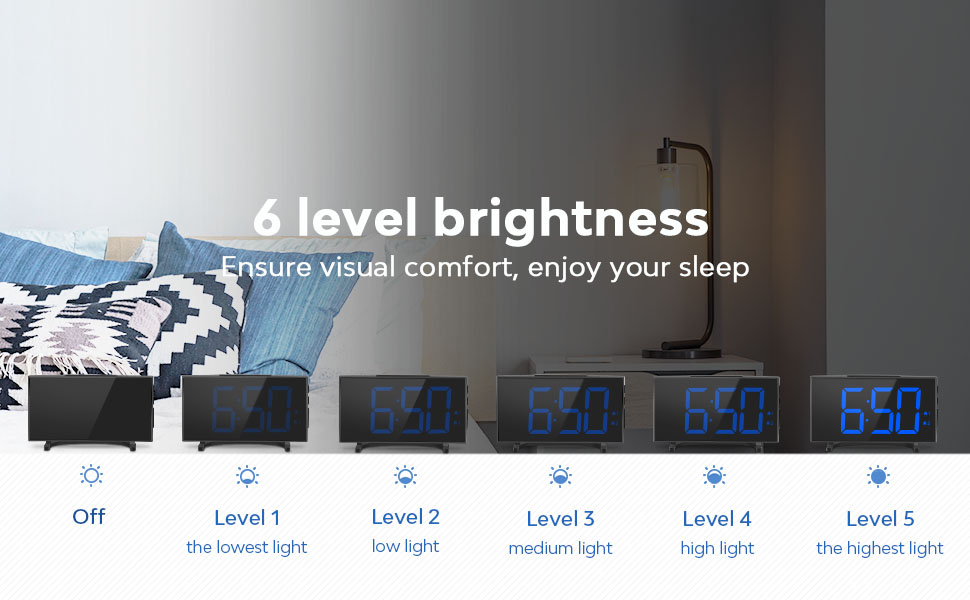 6-level of Brightness
Freely adjust the brightness of digit in 6 levels to cater for your different needs. (off/low/medium-low/medium-high/high/full light) You can choose your favorite light level if you feel that the light on the screen is too bright at night. And you can also turn off the screen by adjusting to the minimum light level to prevent from affecting sleep.
Package Contents:
1 x LED Digital Alarm Clock
1x USB Power Cable
1x User Manual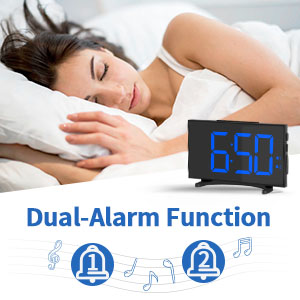 Dual Alarms to Gently Wake-up:
Perfect for adults who go to work at different times or children who never wake up after the first alarm, our alarm clock lets you set two different wake-up times each day.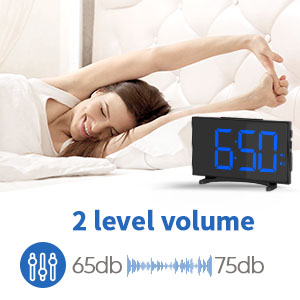 2 Optional Alarm Volume:
Enjoying waking up by sweet alarm sounds; The alarm volume can be set to high or low with one button switch. (2 alarm volume: 65db / 75db) .
NOTE: The alarm sound can get incrementally louder, lasting about 30 minutes.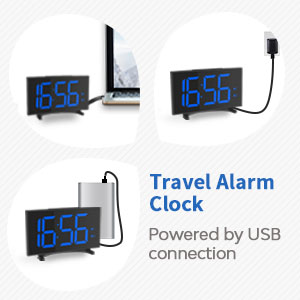 Convenient Power Supply:
The clock designed with a USB connector allows you to power it with any USB devices such as laptop, adapter and power bank, so you can conveniently take it wherever you go.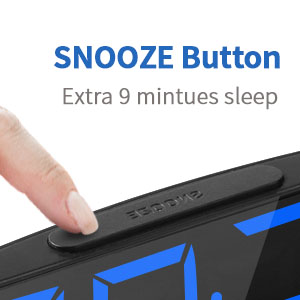 Snooze Function:
When the alarm sounded, press the snooze button can get extra 9 minutes to sleep. The snooze allows the alarms to sound every 9 minutes until it is turned off, ensure you will never miss important moments.
NOTE: When the alarm sounded, if you press any button except the "snooze" button, which will turn off the snooze function, the alarm won't sound any more.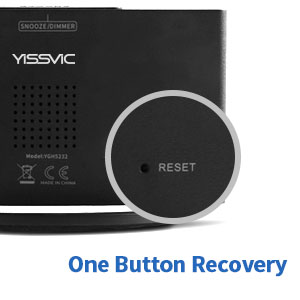 Backup for Clock Setting:
This clock is NOT BATTERY OPERATED, because AC power must be required for the clock and all functions to work. The battery backup feature works for memorizing the time and alarm settings in case of main power outage. During the battery backup, the screen will go blank and alarm will not sound, but the clock will display correct time once power returns.
NOTE: Built-in Battery can NOT be disassembled and replaced, and it is invisable, as it is put in the clock's internals. Please take it into consideration while buying this mini alarm clock.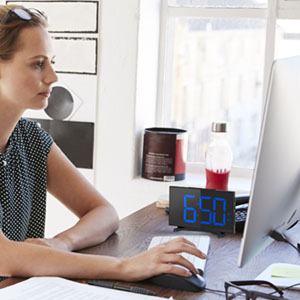 Simple Alarm Clock:
Nice and simple for the desk shelf, kitchen or bedroom at home or office at work.
With simple and modern design, this alarm clock is easy to operate and this clock is great size to sit on the corner of desk. It is easy to see and read, 12 or 24 hour display optional. PM icon will display while time reaches to afternoon if 12hr display model selected.