$16.99
【Heavy Duty】These food saver bags are equipped with a fine ribbed structure and with a material thickness of 3 Mil (approx. 180 μm), very strong and tear resistant. No puncture of bones
【Convenient to Use】 Includes 2 rolls 8" x 16' and 2 rolls 11" x 16' (Total 4 rolls). One side is smooth and the other side is embossed. These vacuum sealer bags are designed for use with all vacuum sealers, just cut off the length you need then vacuum
【Keep Fresh】Your food stays vacuum up to 5 times longer fresh in the vacuum food bags-completely natural, without preservatives
【Great Value】All vacuum sealer bags for food are BPA-free, boil-proof (in water at 100 °C for max. 4 hours) and suitable for use in the microwave (up to max. 70°C), reusable (dishwasher safe), tasteless and odourless. Cook large and portion small, saving time and money
【Ideal for Sous Vide Cooking】These vacuum seal bags for food are ideal for Sous Vide cooking under vacuum. The natural taste of the food is preserved, the meat becomes tender and juicy. Nutrients, vitamins and trace elements are not lost and vegetables remain crisp and colour-intensive
描述

You may like to vacuum food because it allows you to have better organization of your fridge and freezer, and the best thing about it is that you will not need to throw out food or leftovers.
Using vacuum sealer bags can be a great addition to your cooking game, because it can take out any air and so prevent food dehydration and will marinate your fish and meat and go for rich flavors that are accented by various sauces and spice. Also it can keep food's taste and texture throughout many weeks of storage. You don't have to worry about the nutritional value being lost in the process either.
YISSVIC vacuum seal bags for food have 2 different size (2 rolls 8" x 16' and 2 rolls 11" x 16') when you get it and you can choose different size according to the food's size, great for your regular use.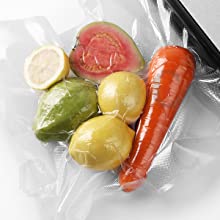 For All Clam-type Vacuum Sealers
Compatible with all vacuum sealers which have inner chamber. Fit inside your sealer's inner chamber well, very convenient!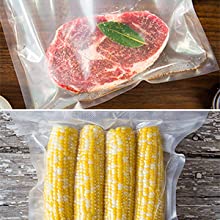 Keep Food Fresh
Embossed Air-removal Channels to block oxygen and moisture and eliminating freezer burn and dehydration, these vacuum sealer bag can keep your food fresher, juicy and flavorful.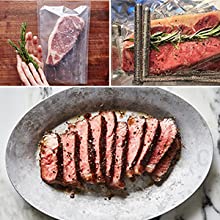 Perfect for Sous Vide
Sealing the vacuum food bags by vacuum sealer to prevent water from entering the bag and contaminating your ingredients, so your food stays safe during the sous-vide. You can place them in water at any temperature up to 212 ° F / 100 ° C.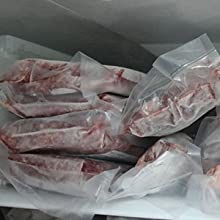 Freezer Safe
These food saver bags can be reused by repeated washing. Cook food in bulk and store in the freezer for later use.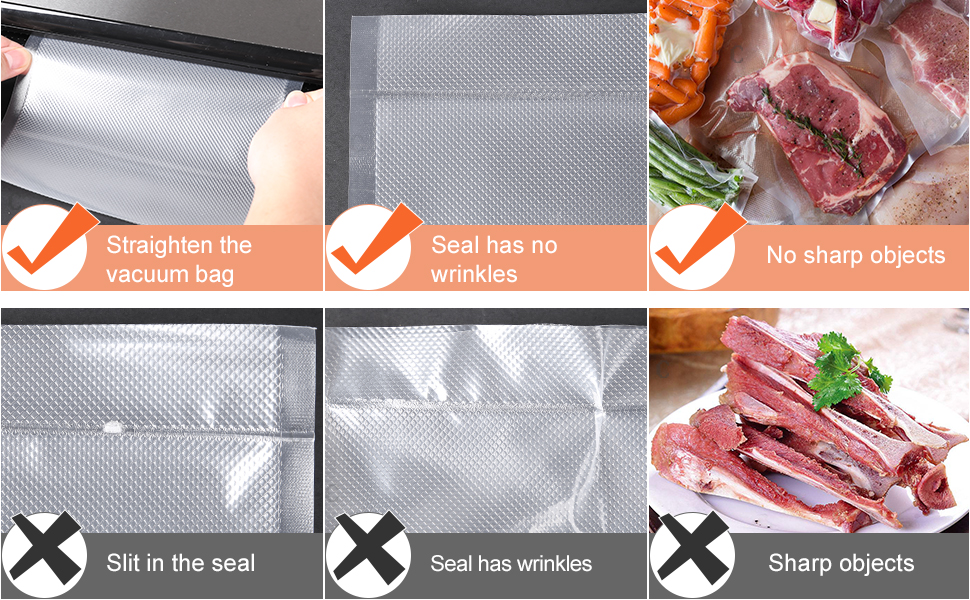 Natural storage without preservatives
Keep the food fresh and protect it from external elements such as air, moisture, mold and insects with Yissvic vacuum sealing rolls. It is a complete solution to protect your food from freezer burn, spoilage and unpleasant smells while maintaining all of your taste and nutrition.
Heavy load & robustness
Made of durable plastic, 3MIL thick multi-layer, these vacuum bags are resistant to punctures, tears, leaks or burst during use. BPA-free, food-safe and non-toxic material ensures safe storage. In addition, they do not release any harmful chemicals when heated.
Embossed channels
The air is the greatest enemy of food. Exposing your food to air for 5 minutes can cause oxidation. It creates an airtight barrier that keeps the freshness.

Specification:
5 times longer fresh in the vacuum bags-completely natural, without preservatives.
Vacuum sealer rolls are easy to use and to seal items of different sizes and lengths.
Dishwasher safe and food safe, tasteless and odorless, protection against freezer burn, reusable.
Ideal for food sving, freeze dried meal, sous vide, gardening, tea leaves, documents and electronics
(Note: If you need to cut the bag in half for use, please cut off the side of the sealing strip after sealing the side which you cut off. )
Package includes:
2 Rolls of 8 Inch x 16 Feet (20 x 500 cm)
2 Rolls of 11 Inch x 16 Feet (28 x 500 cm)