$27.99
UPC: 614405998130
【Help Reduce Hair Loss】Less chlorine and less hair fall. This chlorine filter removes chlorine, reduces hair loss, reduces dry itchy skin, scalp, helps keep hair and skin healthier
【Efficiently Purifies Water】15 stages shower head water filter includes KDF55, vitamin C balls, activated carbon ,ceramic balls, PP cotton and so on, significantly removes chlorine, fluoride, heavy metals, sediment particles, water impurities, and bacteria
【Revitalizes Your Body】Purified water can activate the cells, increase the level of oxygen in the blood, promote human metabolism, this shower water filter can improve the quality of the water and your health
【High Output】This fluoride shower filter provides consistent water pressure without reducing and maintain a high water level output, providing you with a great and refreshing shower experience
【Easy Installation & Universal Fit】Super-easy installation in seconds with no tools required, this filter shower head comes with everything that can help you for immediate installation. Universal connections, work with shower head and handheld shower
描述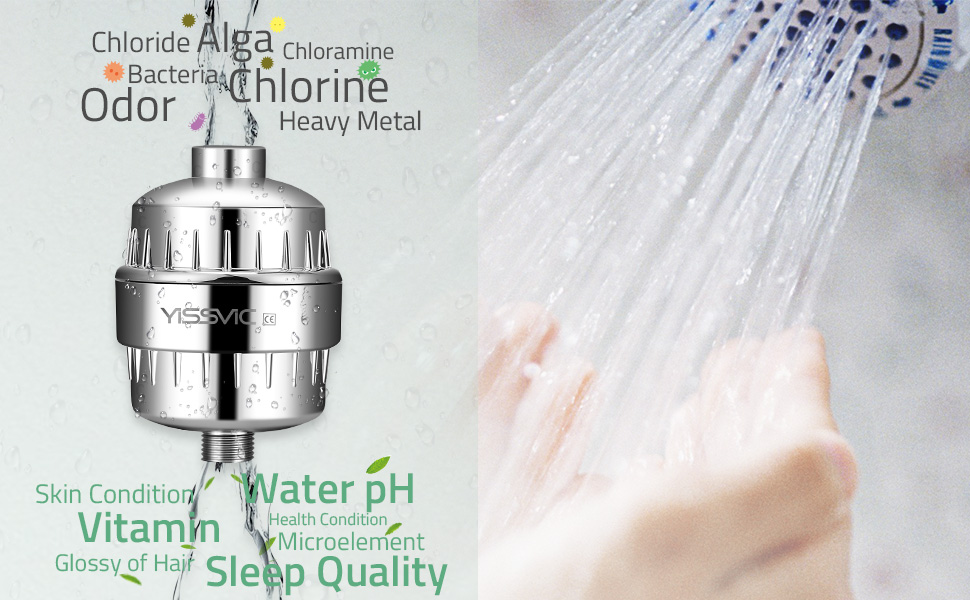 15 Stage Powerful Filtration
Chlorine has been around in public waters for years. Prolonged exposure to chlorine on your skin however will cause pronounced dryness along with brittle hair follicles. This is largely due to the stripping of sebum oil.
Using a YISSVIC 15 Stage Shower Filter will remove chlorine, reduce hair loss, reduce dry itchy skin, scalp, help keep hair and skin healthier
KDF55 — Removes chlorine, fluoride, algae, fungi, chlorinated hydrocarbons, hydrogen sulfide, viruses, heavy metal such as mercury, cadmium, arsenic, aluminum, lead, iron. Also inhibits bacterial growth
Vitamin C Balls — Removes up to 99.9% of chlorine and chloramines from your shower water. Also helps prevent free radicals on the surface of your skin, gives you more radiant and healthier looking skin
Calcium Sulfite — Removes residual chlorine
Alkaline Ball — Adjusts water pH, makes the water alkaline
Magnetic Energy Balls — Increases oxygen content in the water, and activates water
Activated Carbon — Sterilizes, adsorpts odor and improves water quality
Medical Stone — Contains 30 kinds of beneficial trace elements , activates human cell and promotes blood circulation.
Ceramic Balls — Increases human immunity, eliminates harmful substances, carcinogens. Releases the toxins out of human body
Mineralized Balls — Contains more than 20 kinds of essential trace elements such as zinc, lithium, iodine, slowly and uniformly released in the purified water
2 Layers of Micro-Porous PP Cotton — Filters small particles of dust, sediments and rust
2 Layers of Stainless Steel Meshfilter & 2 layers of Ultra-fine Stainless Steel Mesh — Filters large particles of dust, sediments and rust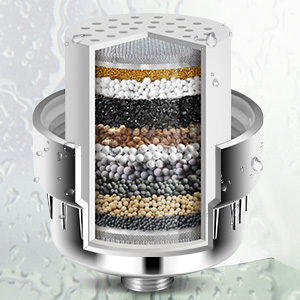 Features of YISSVIC Shower Filter
Removes chlorine, fluoride, heavy metals, sediment particles, bacteria and so on
Help reduce hair loss
Adjusts water pH, provides you an acid-base balance, reduces dry itchy skin, scalp
Easy to install, coming with installation accessories, no tools required
Note
Please make sure the gap between the shower filter and the wall is larger than the radius of shower filter
Please make sure the rubber rings are in correct place to avoid any water leakage during use
Rinse the shower water filter for 5-10 minutes before use to remove accumulated carbon dust.
Product Parameter Details
Material: ABS
Package size: 9 x 9 x 19.5 cm
Weight: 608 g
How to Install:
Step 1: Flush shower filter
Step 2: Remove shower head
Step 3: Put two rubber o-rings on both ends of the shower filter
Step 4: Wrap Teflon tape tightly around the threads of your shower filter and shower arm
Step 5: Install the shower head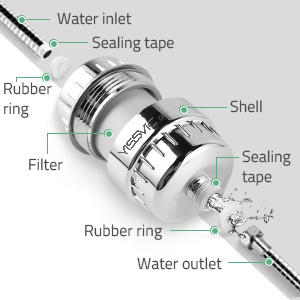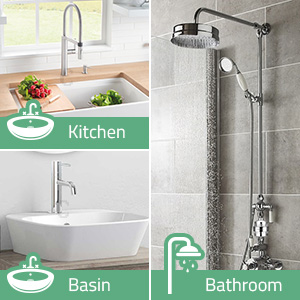 Your Family health Guarder
Fit on shower head and handheld shower
Suitable for kitchen, bathroom and washroom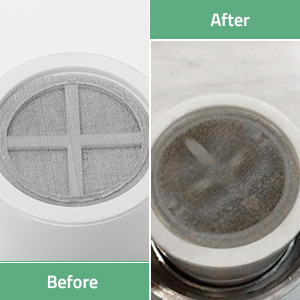 Replaceable filter cartridges
The shower filter replacement time is about 6-8 months.
With two filter cartridges, you can bath with purified water for more than 1 year.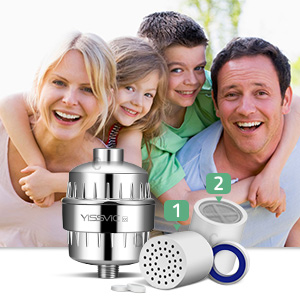 Packaging
1 x YISSVIC Shower Filter Shell
2 x Filter Cartridges
2 x Silicon Ring
1 x Teflon Tape
1 x Manual