$19.99
【2 Water Pressure Modes】There are 2 modes for this bidet toilet sprayer-Jet Spray and Soft Spray modes, you just need to change the water pressure modes with a twist.Our spray heads have a complete pressure range and can be operated with one hand without any effort, with just one tap of water. The pressure is adjustable depending on how far you press the trigger
【Installation Easily】The package of bathroom bidet sprayer includes all accessorizes which you need to install. The T-valve adapter allows you to integrate the sprayer into your water supply to the toilet tank neatly and 7/8″ connector is suitable for most toilet . Come with a Teflon tape for use if it's required. No special skills, knowledge or tools require. (Make sure that your toilet tank's water inlet diameter is 7/8″ before buying)
【Leek-proof Design】This bidet sprayer head is made of 304 stainless steel to resistance to oxidation and corrosion.The hose is made of thick explosion-proof tube and outer nylon braided layer for higher durability to get rid of leak problems. This bidet sprayer does not have option for both hot and cold water connection, if you wanto have a hot water, you can connect it to a hot water source
【2 Mounted Way】This bathroom diaper sprayer supports two installation methods (Wall or Toilet Mount), you can choose which method is suitable for you and do it yourself
【Mufti-function Sprayer】This bidet sprayer can be used as a bidet and will love how much cleaner they feel after using the bathroom. If you have a baby, it will be so great for you to clean the diaper by this bidet sprayer. You can use it for refilling your fish tank, cleaning the toilet and cleaning hard to reach areas in your shower. It is also great for rinsing out potty chairs
描述
Regardless of whether you need convenience or hygiene a good hand-held bidet sprayer is a must for your toilet. They might look like simple appliances but the role they play is very important in our daily lives. Hand-held diaper sprayers are more economical to install than a free-standing bidet toilet. The hand-held bidet sprayers can be used not only for personal hygiene but they can provide a strong jet spray for toilet or bathtub cleaning.
YISSVIC stainless steel bidet sprayer allows you to clean those difficult areas quickly. It can also be used as a bidet spray for cloth diapers. The sprayer kit includes all the necessary accessories you need to set up the Bidet Sprayer in just a few minutes!
There are 2 water pressure mode of this bidet toilet sprayer allowing you to control the water pressure. The Soft Spray mode allows you to reduce the amount of splashing while you are rinsing off. The Jet Spray mode can help you clean out the splodges which is hard to clean.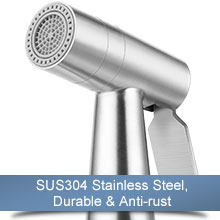 High Quality Stainless Steel
This bidet sprayer head is made from 304 stainless steel, which makes the sprayer resistant to oxidation, corrosion and has increased durability.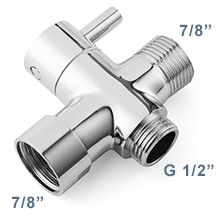 Brass T-Valve Adapter
The T-valve adapter's is made from brass for added strength, which is much more durable. (Please make sure that your toilet tank's water inlet diameter should be 7/8″ for this to be installed correctly)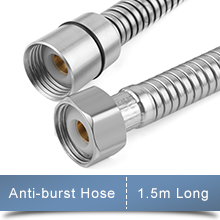 Anti-burst Hose
This 1.5m hose is made of thick explosion-proof tube and outer nylon braided layer for higher durability to get rid of leak problems. Not matter that you use hot or cold water, this hose is not easy to break. (This bidet sprayer does not have option for both hot and cold water connection, if you want to have a hot water, you can connect it to a hot water source.)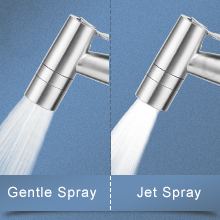 2 Water Pressure Modes
There are 2 modes for this bidet toilet sprayer-Jet Spray and Soft Spray modes, you just need to change the water pressure modes with a twist.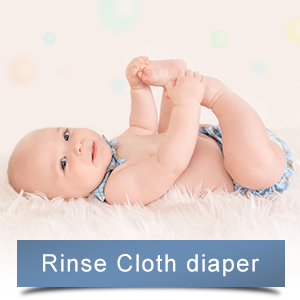 Rinse Cloth Diaper
If you have a baby who wearing cloth diaper, this diaper sprayer will clean the diaper easily and you will save hours compared to the traditional dunk and swish.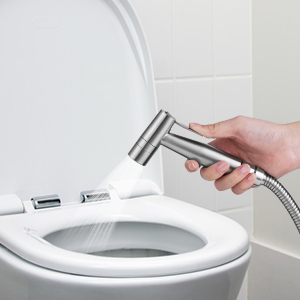 Clean The Toilet
Sometimes you think that cleaning the toiler is a hard job, but with this bidet toilet sprayer, you will find out how easy it is. Just push the switch, the toilet will immediately become clean and fresh.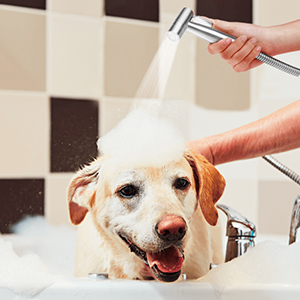 Wash Your Pet
Bathing your pet is not easy because of their heaving hair. This handheld bidet sprayer set can provide strong water pressure, you can easily clean your pet.