$65.99
Safe and non-toxic material: the baby play mat is made of high density XPE foam, BPA free, safe and non-toxic, soft and thick.
Double-sided pattern and foldable design: baby crawling mat has different colours and patterns on both sides, easy to fold, no installation required, easy to store and carry.
Thick and soft: the thickness of the children's crawling mat is 1.5 cm and the size 200 × 180 cm; shock absorption, protect your baby's knees.
Waterproof and non-slip: baby play mat has waterproof design and is easy to clean; when it gets dirty, wipe it gently with wet towel; the surface of the crawling mat has a non-slip texture.
Suitable for different places: due to its foldable design, this portable baby play mat is suitable for indoor and outdoor use, it is ideal for families, nurseries or amusement parks.
描述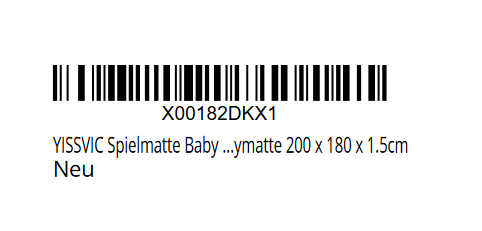 Why choose Yissvic baby play mat.
Oversized: 200 x 180 cm.
Thickness: 1.5 cm.
Foldable design.
Waterproof and non-slip.
Double-sided pattern design.
Soft high density XPE foam material
Easy to clean and store.
Suitable for multiple scenarios