$39.99
Professional Roll Up Drum. This Electric Drum set has 7 keys including 1x Crash,1 x Snare,3x Toms, 1x Ride, 1x HI-Hat. It can play 8 Demo songs and effectively restore realistic drum sounds
Portable. This Electronic Drum Set can be rolled up so you can play music anywhere and anytime like on holidays or birthday parties.
Headphone Jack Design. When you want to play this drum pad, like in the late night, but also do not want to disturb others, then you can wear your headphone. The headphone jack design make you enjoy the music quietly and privately without affecting by the outside.
Built-in Speaker. High-quality built-in dual speakers deliver amazing bass performance. You do not need to connect it with other speakers when you want to listen to rock and roll.
USB MIDI Connection. Electronic Drum Set has USB MIDI Jack,so you can connect the electronic drum to computer uploading songs, creating, playing games, etc.
描述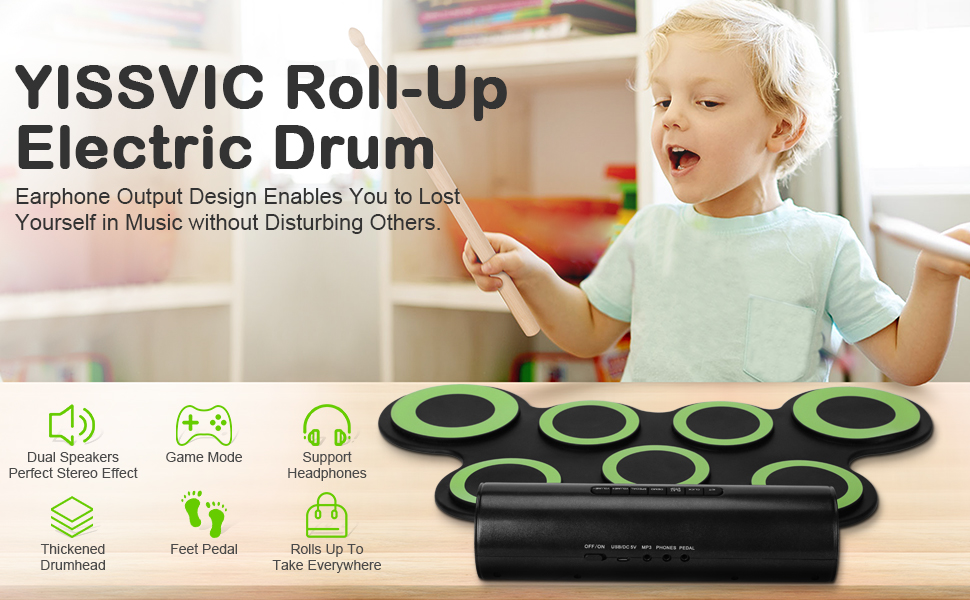 YISSVIC Electronic Roll Up Drum Kit Provide You with A Real Experience of Drum Learning!
Mini Roll Up Drum Design, You Can Play Anytime & Anywhere.
✔Indoor Practice:If you want to practice drum in your apartment,but don't want to disturb your families or neighbors,this Electronic Roll Up Drum Kit is a better choice.
✔Outdoor Gathering & Party:If you want to play drum outdoor, but it is very inconvenient to carry speakers or other equipments with you, this Roll Up Electronic Drum Kit is worthy.
✔As a present:If you are looking for a gift,this Electronic Drum Kit can be a birthday or Christmas gift for children, youth or friend.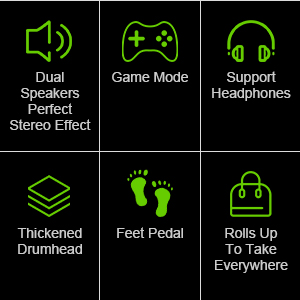 Powerful Function
Built-in Speaker
The Electronic Drum Set comes with high quality stereo speakers which gives you astonishing bass effect.If you don't want to play drum too loudly,you can plug in the headphones,enjoying your own music world.
USB MIDI Connection
The Electronic Roll Up Drum has a USB MIDI jack which can connect with computer to play MIDI software and all drum games.
No Battery Needed
Supports USB port power supply, plug and play.
Color: Black & Green
Weight: 3.3 lb
Keyboard size: 17.4″ x 10″x 0.4″
Material: Non-toxic Silicon & Plastic
Power: DC 5V
Input: 2.5W; Output: 2W
Volume Control:10 Levels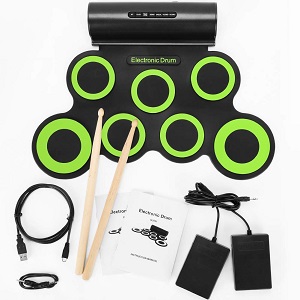 Package includes
1 x Roll Up Drum Pad
2 x Drum Sticks
2 x Foot Pedals
1 x USB Cable DC 5V
1 x Audio Cable
1 x User Manual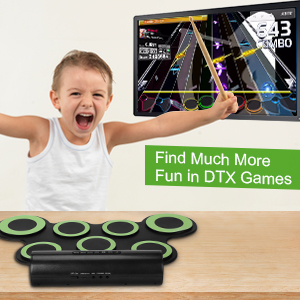 Game Mode
Download DTX on your computer, connect to our USB port then you can enjoy your music game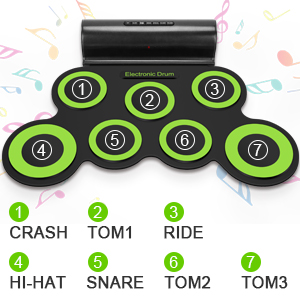 7 Drum Keys with 2 Foot Pedals
The Electric drum kit also has 2 foot pedals which can offer you the better experience like playing the real drum.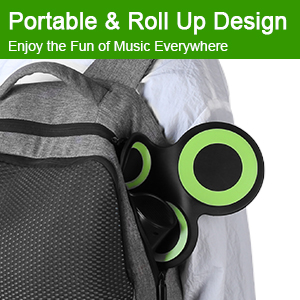 Roll Up & Portable
The Electronic Roll Up Drum Kit is portable,you can roll up drum pad and take it anywhere in your backpack, travel bag and etc.