$36.99
4 IN 1 Multifunctional Milk Frother: YISSVIC electric steamer include 4 different settings can achieve froth dense or thin milk foam, cold milk foam, warm milk , offering you a wide range of options with the one button operation
Large Capacity: The milk frother can froth milk up to 150 ml, warms the milk without foam up to 300 ml. A large capacity ensures that you don't spill your favorite beverage
Easy to Clean: The coffee electric milk frother has non-stick coating interior for easy cleaning, Just rinse with hot soapy water. Note: please do not immerse the outside bottom of this milk frother into the water when you clean it
Fully automatic: This milk frother warmer will automatically shut-off when finished, Once you press the button, you can walk away until it is done, makes your life easier and more enjoyable
Ergonomic Design: YISSVIC milk foam maker designed with a unique and stylish appearance. The ergonomic spout and handle, which is not only easy for grip, but also ensures that you don't spill it when you pour the liquid
描述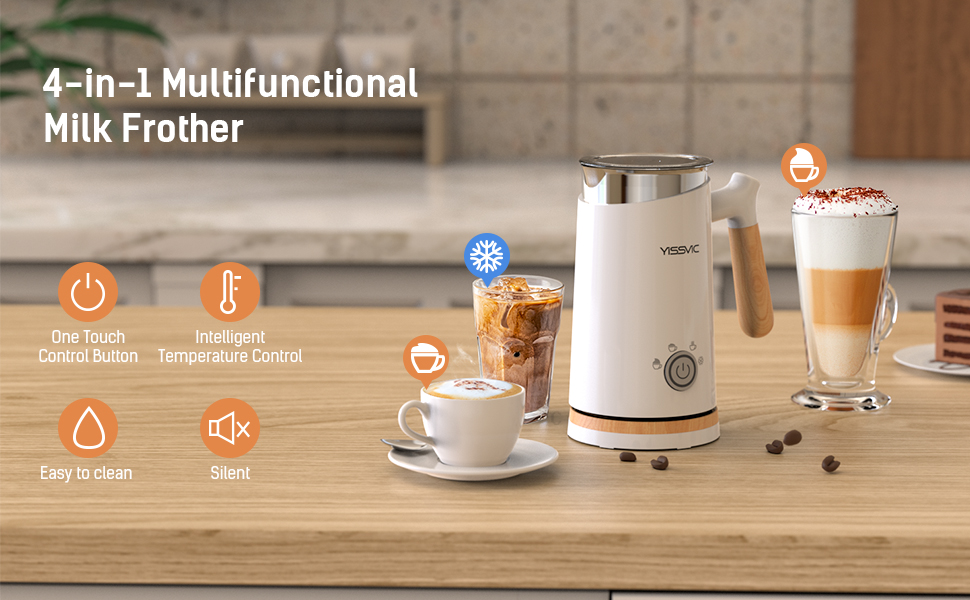 The texture is a wonderful thing. Who likes to drink boring, flat beverages anymore?

When it comes to your morning coffee, what if you could have the coffee shop experience without stepping out of your home?
By using a YISSVIC 4 in1 Automatic Milk Frother at home, you can have them all without having to put clothes on, makes frothing milk a simple process.
1 x YISSVIC Milk Frother
1 x User Manual
1 x Whisk with spring
1 x Whisk without spring