$65.99
1000W Sous Vide Precision Cooker Powerful: Michelin restaurant level quality, cook everything from Beef, Chicken, Pork, Seafood, Egg, Pasta, Chocolate, Baking, Salad, Dessert, Breakfast, Cocktail to Vegetarian. No fuss, no noise, no overcooking anymore, best deal to bring professional cooking to home.voltage is 100 to 120V 60Hz
Accurate Temperature Timer Sous Vide Cooker: Digital control panel immersion circulator makes the temperature accurate to 0.1°C and time to minutes.Intelligent wide range of temperature ( 95℃/203℉ Max) and time control (Max 99h 59mins) allows you to cook any type of food you like and sous vide cooking retains more nutrients and vitamins than other cooking methods
Digital Display Curved Panel Sous Vide Cooker: different with other immersion cooker,those with WIFI and Bluetooth feature are thought as over-complicated and increase your cost. Focus on the core functionality of the sous vide cooker itself. Curved design prevents control panel from mist
Stainless Steel Sous Vide Cooker Constant Heating: Food grade stainless steel, overheat and low water level protection mechanism.Stainless steel sleeve makes it extremely easy to clean and dry out. 360 degrees water circulation Transfers heat efficiently
IPX7 Waterproof Sous Vide Cooker Support: We are so confident in the quality of this sous vide that we offer a 2 years support for it. Any question about this product,please let us know
描述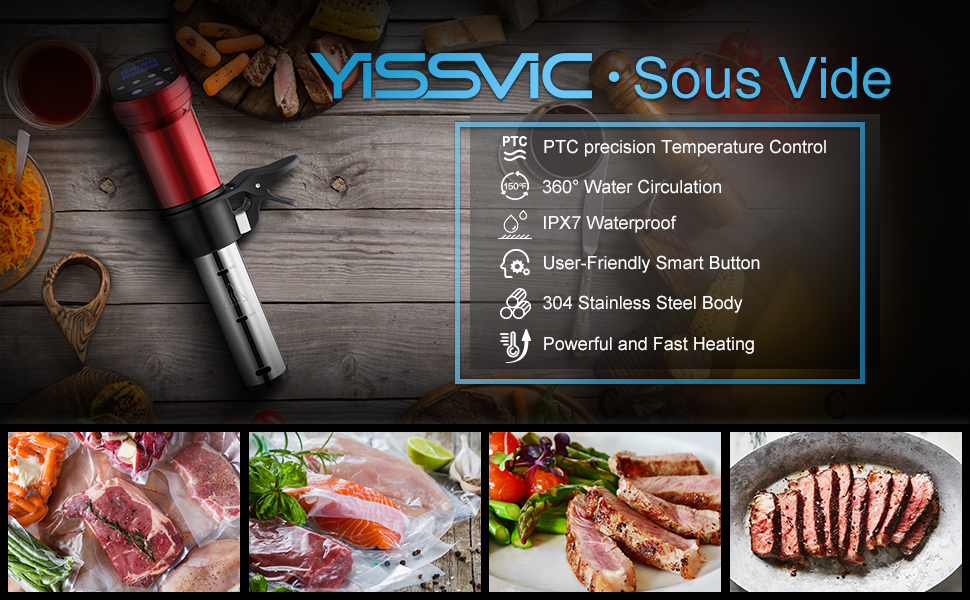 YISSVIC Sous Vide Cooker 1000W Immersion Heater Accurate Temperature Digital Timer Ultra Quiet Working Cooker Red
Sous vide cooking, a new frontier in Home Cooking. YISSVIC Sous Vide Cooker offers an amazing culinary trip.
Cooking with YISSVIC sous vide cooker will keep more nutrient substance in food than traditional cooking means.
360 Degrees Water Circulation to make the food heated evenly.IPX7 waterproof to keep this machine durable.
Its oxygen-deficient environment and low temperature will make delicious ingredients completely permeate into the food, decrease harmful substances, lower the fat use but ensure healthy eating.
Sous vide cooking places the food in vacuum bags that are immersed in a precisely temperature-controlled water bath.
Sous Vide Cooker Recipes Suggestion:
a. Tenderloin steaks: Recipe Temp 130F/54.4C Recipe Time 2 Hours
b. Chicken Breast:Recipe Temp 150F/65.6C Recipe Time 1 Hours
c. Pork Tenderloin Recipe Temp 130F/54.4C Recipe Time 2 Hours
d. Sous Vide Salmon Recipe Temp 115F/46.1C Recipe Time 45 minutes
e.Barbecue Rib:Recipe Temp 165F/73.9C Recipe Time 12 Hours
f. etc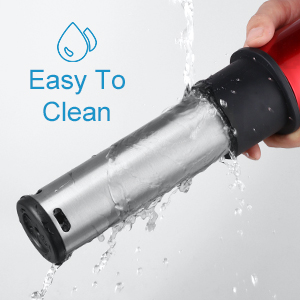 Waterproof Easy Clean Design
Ultra-silent immersion cooker make your culinary art wonderful and easily.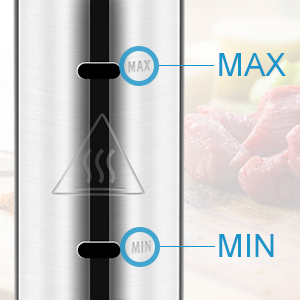 Maximum Minimum Water Level
E1 Reminder
Please make sure water level between Max and Min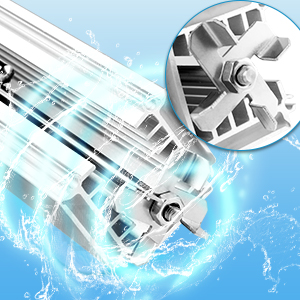 1000W Powerful Stake Cooker
1000W powerful sous vide precision cooker havea strong motor.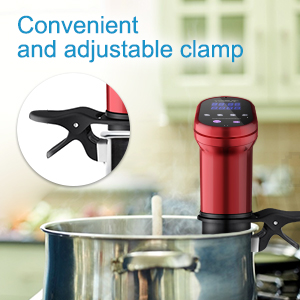 360 Degree Removable Clip
You can choose the direction of the curved digital panel toward your side.It is safer and easier for your cooking. Suitable for all containers.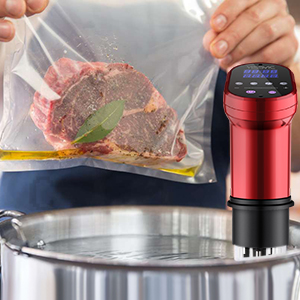 Countdown Timer -Reminder Beep
Adjust cooking times between 1 minute and Max 99h 59mins. And set the temperature from 68°F to 203°F in increments of 3°.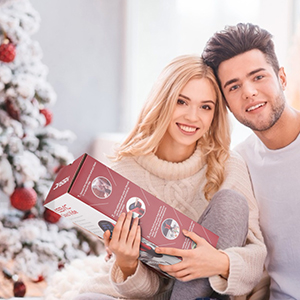 Great Cooking Set for Family
Use individual pouches to cater to personal tastes and dietary requirements. Plus you can prepare your crowd-pleasing dishes ahead of time.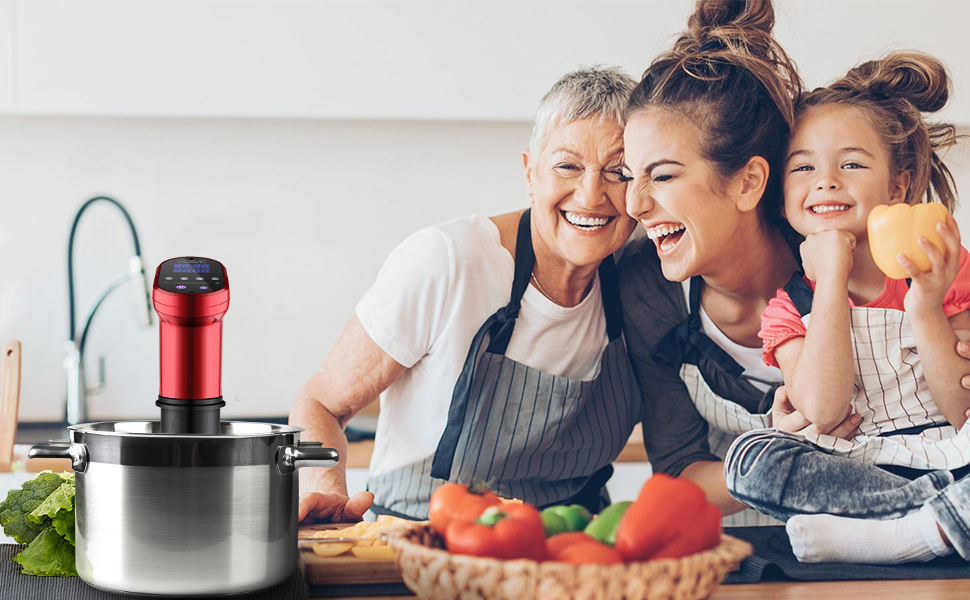 Please Contact YISSVIC Brand Support First, We will responsible for Quality Problem.
The touch-screen digital control panel shows the temperature settings in a clear, easy-to-read display. And its compact design means you can take it anywhere.
Cooking Steps:
Fix the sous vide cooker to a container with the removable clip.
Press SET and PLUS or MINUS button to set your desired Temp and Time.
Press POWER button to start.
Once you have started the cooker, it's time to prep your food, since you have to wait for the water to reach cooking temperature.
Season the ingredients and put them in a vacuum bag to vacuum.
Reaching desired temp with few minutes later, place the vacuum bag into water.
Press the POWER button to start TIMER for cooking.
The countdown is over with beep. Stop it. Enjoy your food with your preferences.