$17.99
【High Pressure Shower Head】This rain shower head will jet out high-pressure rain of water so water flow covers the whole body which providing a penetrating, refreshing bathing experience. No tools required to install this rainfall showerhead, very convenient. Standard G1 / 2 connection which is compatible with all hose and bathtub accessories
【Perfect Design】This 8-inch mirrored shower head is only 2 mm thin, super-planar design. Great range of motion, the ball of rainfall shower head can tilt the shower head so that you adjust the shower head as you like
【Self-cleaning Nozzles】This high pressure shower head comes with 81 anti-clogging silicone gel nozzles to prevent scale, easy to remove dirt from the silicone nozzle
【Leak-proof Showerhead】This rainfull shower head is made of high-quality stainless steel material, one-piece welding which ensures that the showerhead is clog-free and corrosion-resistant
【Flow Restrictor】Our rain shower head comes with 1 flow restrictor with a flow rate of 12L / min, you can save the water by installing the flow restrictor
描述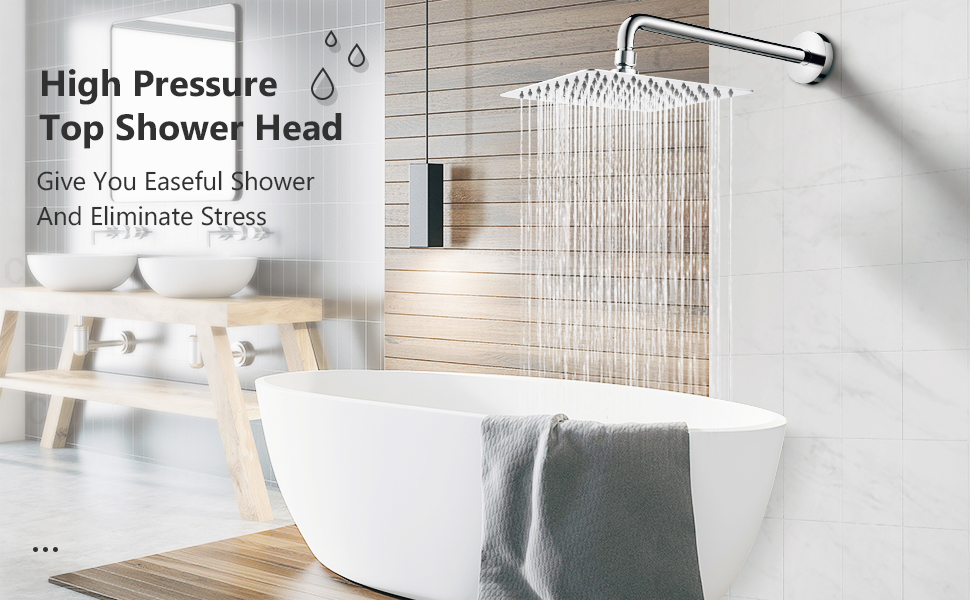 When you have a tired day, you may want to stand under a warm shower for a few minutes to refresh our mood, relax our muscles, and energize our whole stressed body. So a high pressure shower you will need to relief the muscles and as well as your stress.
YISSVIC rainfall shower head will deliver you a relaxing rainfall style showering experience to leave you feeling relaxed, soothed and refreshed.
YISSVIC high pressure fixed showerhead has 8 inches square size that produced from stainless steel material and only 0.08 inch thick , it ensures that the showerhead is clog-free and corrosion-resistant. With the 81 nozzles and superior water pressure, you will glad to have it at home.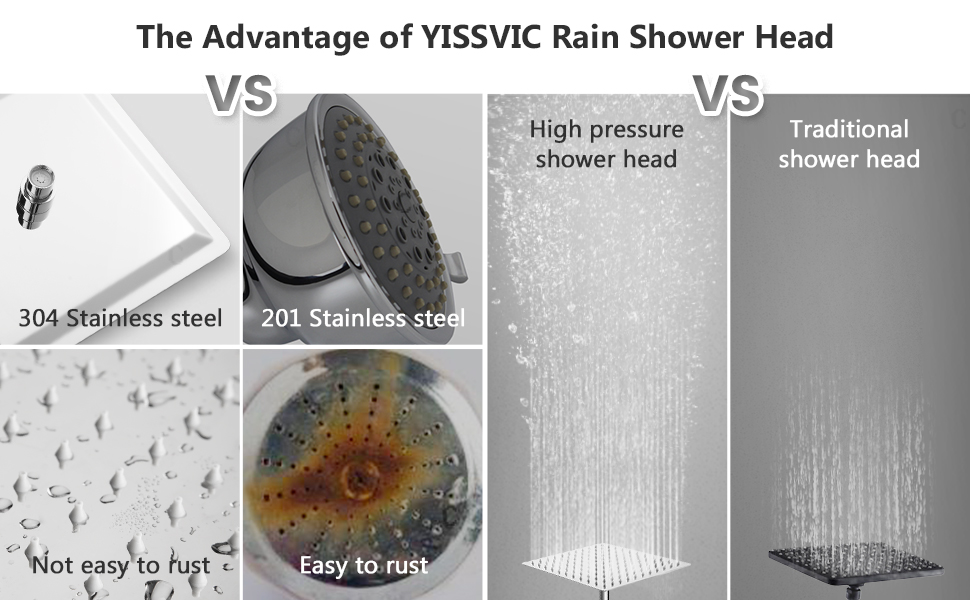 High Quality Stainless Steel
This rainn shower head is made of 304 stainless steel, not easy to rust and no discoloration with stainless steel test solution.
Ultra-thin and Clog-free Design
Mirror finish and ultra-thin design, the edge is only 2mm, elegant and fashion. One-piece welding, not easy to leak.
High Pressure
This high pressure shower headuse Air-in Techology, perfectly solve the problem of low water pressure.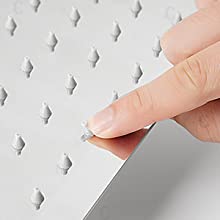 Silicone Gel Shower Nozzle
This rainfull shower head has silicone gel shower heads to prevent scale, easy to remove dirt from the silicone nozzle.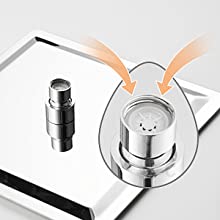 Flow Restrictor
Come with fow restrictor so that you can save the water as you need. If the water flow is low after installing the shower head, you can remove the white water-saving piece (as shown in the picture).
The difference whether the water-saving piece taken out is that the water-saving part can better save water.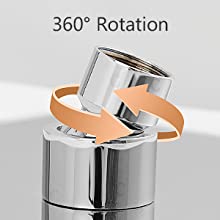 Rotating Connector
The swivel ball design in connector of this hight pressure shower head allows to adjust the angle of the shower head in 360 degree, easily tilt to your desired direction.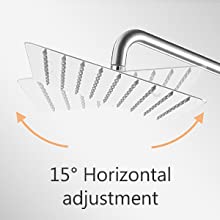 15° Horizontal Adjustment
This top shower head also can be adjusted by 15 degree horizontal which you can find the angle you love.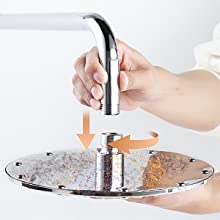 Step 1: Remove the old shower head.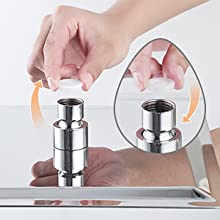 Step 2: Take off cover of the rainfull shower head. (If you need to save water, please put the water-saving piece into the rain shower head)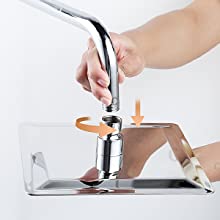 Step 3 : Screw clockwise onto the shower tube and tighten to prevent leakage.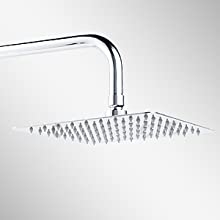 Step 4: Adjust the angle you want and enjoy your shower time.