€38.99
4 in 1 Function: YISSVIC milk frother can create warm dense foam, warm airy foam, cold foam and warm milk, you can enjoy heavenly coffees in no time at home with this frother and steamer
Large Capacity: Our milk frother has a large capactiy, can froth milk up to 5.1 oz/150 ml, warms milk without foam up to 10.2 oz/300 ml. The marking is visible for you to fill in so it can ensure that you don't spill your favorite beverage. (Recommend to use whole milk for better result.)
All in One Whisk: One whisk is suitable for all functions. There is no need to worry about using the wrong whisk to cause milk froth failure. The base can accommodate the power cord, choose a suitable length and store the excess, so that the countertop is not messy
Easy To Clean: High-quality stainless steel and non-stick coating interior for hygienic cleaning, simply wipe with a wet cloth. (Note: Please clean the milk frother every time you use.)
Safe Design: Our milk warmer is equipped with temperature control and automatically turn off which will automatically switches off when milk foam is ready. Food-grade and non-stick coating inner will not easy to burn the milk
Description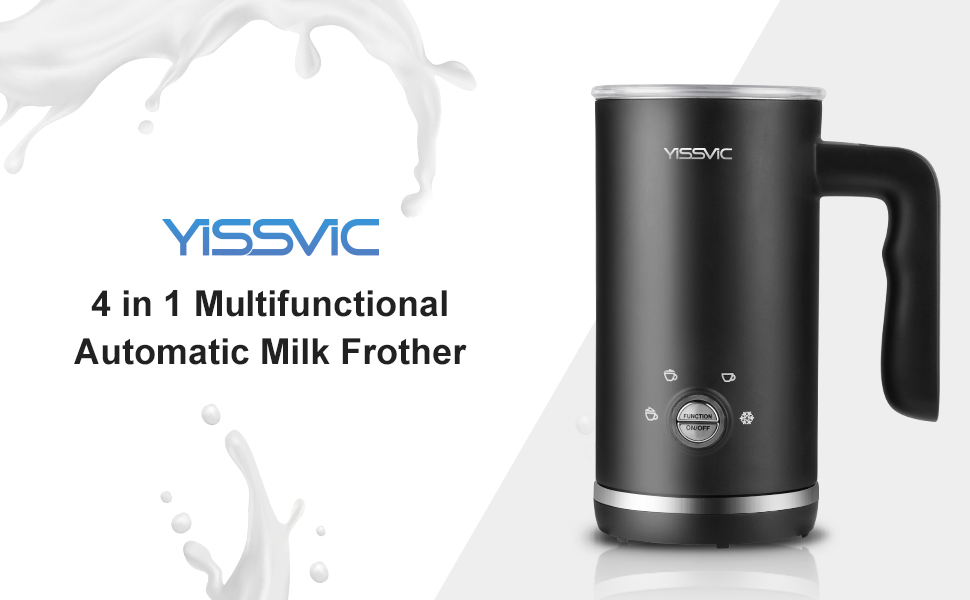 -Sometimes there's nothing better to mix up your morning coffee routine than treat yourself to a smooth latte or a frothy cappuccino.
-Now you can use a YISSVIC milk frother to create that delicious, creamy foam to perfect your morning brew at a fraction of the cost of your local high street coffee house.
Before using, please read the following instructions carefully:
1.Pay more attention to the base of milk frother during cleaning. Don't let water enter in the bottom.
2.To get a better effect of froth, please use whole milk.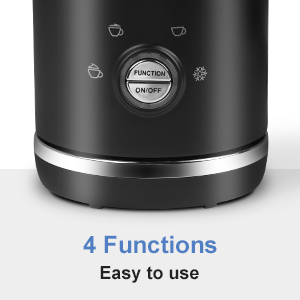 4 In 1 Function
There are 4 function: warm thick milk foam, warm thin milk foam, cold milk foam and heat milk. You can choose the function according to the coffee you want to make!
(Recommend to use whole milk for better result.)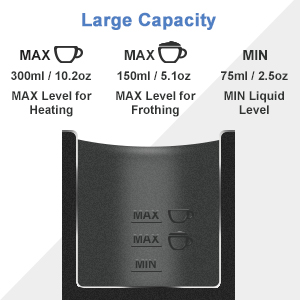 Large Capacity
-Maximum level for heating milk -300ml (10.2oz)
-Maximum level for frothing milk – 150ml (5.1oz)
-Minimum liquid level – 75ml (2.5oz)
1 Whisk For 4 Funtions
1 whisk for this milk frother can make a prefect milk foam for cappuccinos, coffee, macchiatos, lattes, hot chocolate and flat whites, do not need to change the whisk any more. (Come with extra whisk to replace.)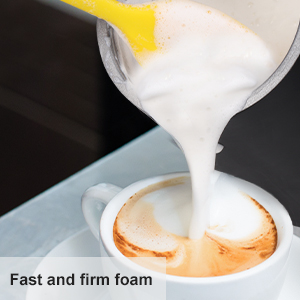 Make Prefect Foam In Several Minutes
Food-grade and non-stick coating inner will not easy to burn the milk. Come with silicone spatula to help you pour out the foam and do not damage the inner.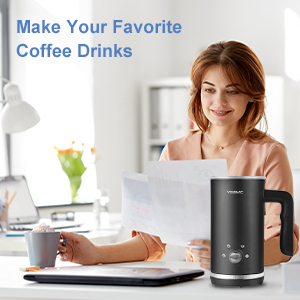 Make a Prefect Coffee for Yourself
This milk foam maker quickly whips up hot milk foam for restaurant-quality coffee drinks for adults, or mugs of spiced cider and hot chocolate for little ones.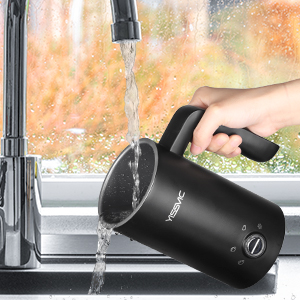 Easy To Clean
After stirring the milk froth, simply wipe the milk steamer with a rag and then rinse with water. Or add about 200ml of water, start the mixer to rotate, and the milk frother will be cleaned. Don't let water enter in the bottom.