$40.80
【Super Large Screen】This alarm clocks 9 Inch large display 1024 x 600 high resolution digital alarm clock calendar day and time are clearly spelled out, free from any abbreviations. The back of the product has quick hanging hole, if you have wall mount hole and stand, it can be hung on the wall rapidly and conveniently.
【Battery Backup】This date clock for seniors is powered by DC 5V, in case for a power failure interrupt. And this alarm clock with battery back-up, so that it will be retain the correct time and date when the power returns.
【5 Alarm & Battery Backup】Digital wall clock with 5 alarms can be preset to remind users of what to be done in a day in the form of both sound and Flash text on the screen can effectively avoid forgetful daily routine and to-dos.
【Multifunction】Features dual time mode, dual date mode and a choice of 8 languages including English, Spanish, French, German, Italian, Polish, Dutch and Welsh. Also has auto dimming function which can be turn off, and power on /off memory. (Max Support 32 G, Not include)
【Wonderful Gift】The words Dementia, Alzheimer's and Memory Loss are not appear in the packing box and the clock which is very thoughtful and make it a perfect gift for seniors, for grandfather or grandmother.
描述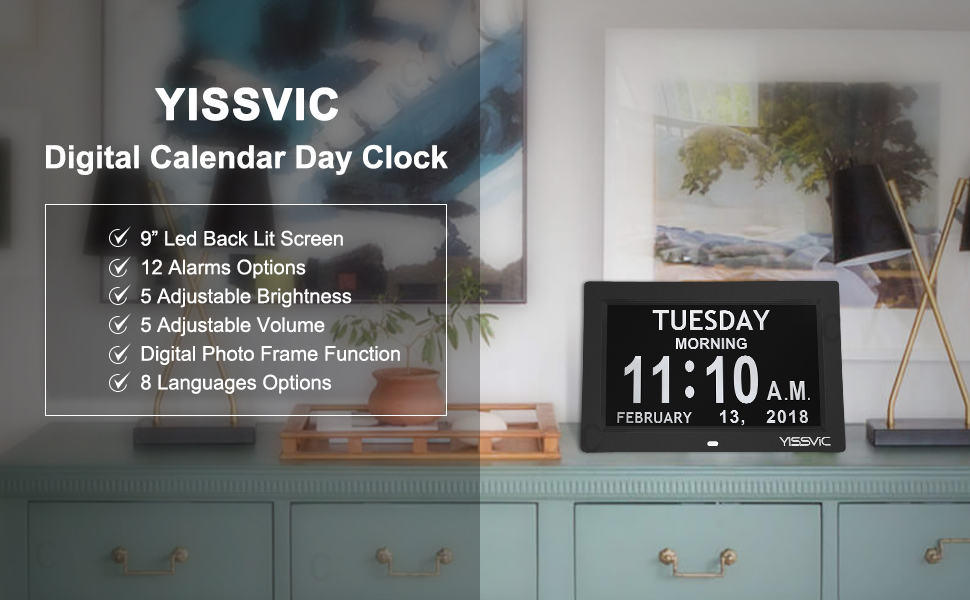 Why Shall You Choose YISSVIC 2 in 1 Digital Calendar Clock & Digital Photo Frame?
Easy to Read: 9 inches Big LED Back-Lit Screen shows the time,day and date without abbreviation, so that you can grasp the time at a glance from any angel.
5 Adjustable Brightness: The default auto dimming mode of this day and date clock has two levels of brightness. If you are not satisfied with it, you can set the day clock in manual dimming mode. Thus you get 5 levels of brightness and you can choose your favorite one between them.
12 Alarms and 8 Memo Themes Options: We may have different wake-up time and different routine schedules needing to set multiple alarms.Here YISSVIC digital alarm clock provides 12 alarms options and also 8 memo themes for your alarms. So one YISSVIC alarm clock is even worthy of 5 alarm clocks !!!
Acting Like a Digital Photo Frame: If you use the clock as a decorative clock on your living room or bedroom, you can either enjoy a decent clock showing time or a digital photo frame playing images or videos of your precious memory.
Placed On the Desk or In the Wall: YISSVIC digital calendar clock can be placed in the tables with the standing foot, or hung in the wall as a wall clock with the hole on its back.
5 Adjustable Volumes: Different people have different sensitive sense of sound. So YISSVIC digital alarm clock has 5 adjustable volumes to meet different people's needs.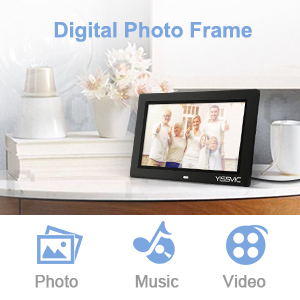 Digital Photo Frame 1024 x 600PX
Insert a SD card or USB flash disk and then press the Play button, you can easily switch the digital calendar clock into a digital photo frame.
Notice to use this function:
1. Please copy and paste the music, video or picture files directly to your USB flash disk or SD card. Remember don't drop into the file folder or create a new folder for them
2.After inserting USB flash disk or SD card, you can press the play button to play your videos or photos.
USB or SD Card Format:
Maximum Support USB/SD Capacity: 32G
Supported File Systems :FAT32 and exFAT.
Video format support:
264 coding (format: Avi, mp4, 3gp, Mkv, mpg)
mpeg12 coding (format: mp4, 3gp, Mkv, mpg)
bitrates: 2~20M; fps: 24/30; up to 1080p

Why my remote did not work? Why my remote reacted slowly?
Here is a checklist for you:
Please make sure the sensor port [on the left side of the logo] on the day clock is not blocked.
Please make sure you have removed the transparent insulating card on the remote battery slot.
Please make sure the signal transmission hole on the top of the remote is aligned with the sensor port on the wall clock.
Please make sure that the remote control is no more than 3m [10 feet] away from the digital clock.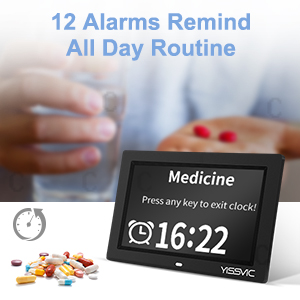 12 Alarms Program Daily Routines
Up to 12 alarms and 8 memo theme reminder options available to set, which significantly programs all day routine of your whole families, especially for seniors who needs to take medicine routinely!
NOTE:
These memo themes are pre-set so it is not programmable for new activities.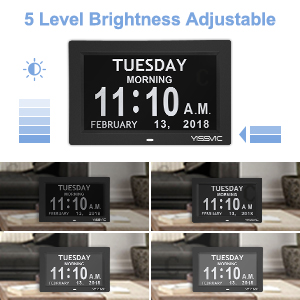 5 Brightness Levels Adjustable
(Default) Auto Dimming
The default brightness setting is Auto Dimming of 2 options.The day clock will be in High brightness from 7:00am to 6:59pm and in Low brightness from 7:00pm to 6:59am.
5 Manual Brightness Levels
5 adjustable manual brightness allows you to choose a suitable one to fit your environment.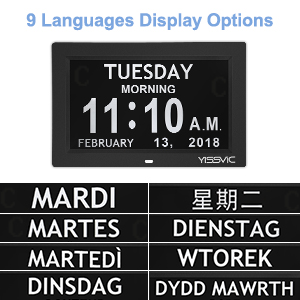 Display in Your Mother Language!
There are English/ Chinese/Polish/ Italian/ Dutch/ German/ Spanish/ Swedish/ French for choosing.
Please note that the hourly chime will only read in English language.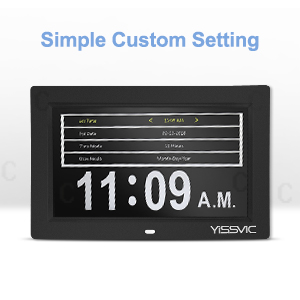 Simple Custom Setting
The UI1 will display the date and day in full letters with no abbreviation.
The UI2 [Not Removable] will indicate the current time. It is divided into 4 stages: Morning (6:00am-11:59am); Afternoon (12:00pm – 4:59pm); Evening (5:00pm- 8:59pm); Night (9:00pm-5:59am)
The loved ones will not confuse anymore.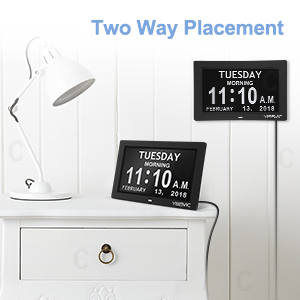 Two Way Placement
The calendar clock with a kickstand not only can be used as a desk clock, but also as a wall clock.
It could be placed in the living room,bedroom,kitchen,study room near a power socket.
9″ Large Display Clock for Elderly
YISSVIC digital clock is much larger than other clocks which is in 8″, making it a great gift ideas for Father's day, Mother's day, Thanksgiving day,New Year and Christmas,etc.