$39.99
Multifuntional Electric Kettle : This water kettle can set different temperatures from 105℉ to 216℉ by pressing "+" or "-" button. For example, 105℉ for milk powder or honey, 140℉ for lemon tea, 175℉for green tea, 190℉ for oolong tea, 216℉ for black tea.There is no doubt that this kettle can satisfy all your beverage needs.
Better Tastes and Convenient Cleaning : Put the loose tea into the infuser, you can control the brewing time by pulling it up and down to achieve a better taste. And the detachable tea infuser helps to quickly clean the electric tea kettle after enjoying a full pot of beverage.
Quick Boiling and Keep Warm Function : With the max 1500W power, this hot water kettle can boil 1.7L water in 5-7 minutes. After boiling, keep the tea kettle plug in, press "on/off"button,and set your desired temperature then press "keep warm"button to confirm, you can keep it warm for one hour.
Clean and Safe : Made of BPA-free glass and food-graded stainless steel, you can safely boil your water and easily keeping the water PURE and uncontaminated.
Decent Blue Led Indicator : YISSVIC electric glass kettle has a blue led indicator when turns on, which is a noticable reminder when using especially at night. So, why not get one for your hubby /wifey?
Description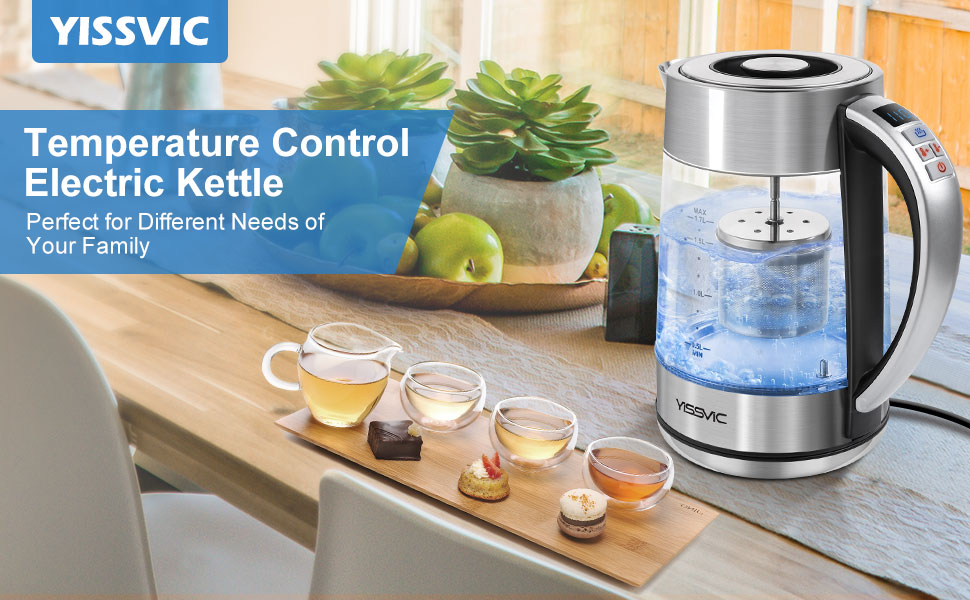 YISSVIC Electric Kettle with Temperature Control – Perfect Kettle For All Your Needs
Fast Heating Water Boiler- – With 1500W great power, YISSVIC electric kettle can quickly boil 1.7L water within 7 minutes.
Easy Cleaning Tea Maker- -With the removable tea infuser and big mouth cover, YISSVIC hot water maker for tea is easy to clean and dry.
Perfect Temp for Every Occasion- – YISSVIC tea kettle offers different heat settings, which allows for steeping tea at just the right temperature depending on the variety.
Keep Warm for One Hour– Keep the water kettle plug in, press "on/off" button, then press "+" or "-" button to set your desired temperature,finally press "keep warm" button to confirm, you can keep the water warm for one hour.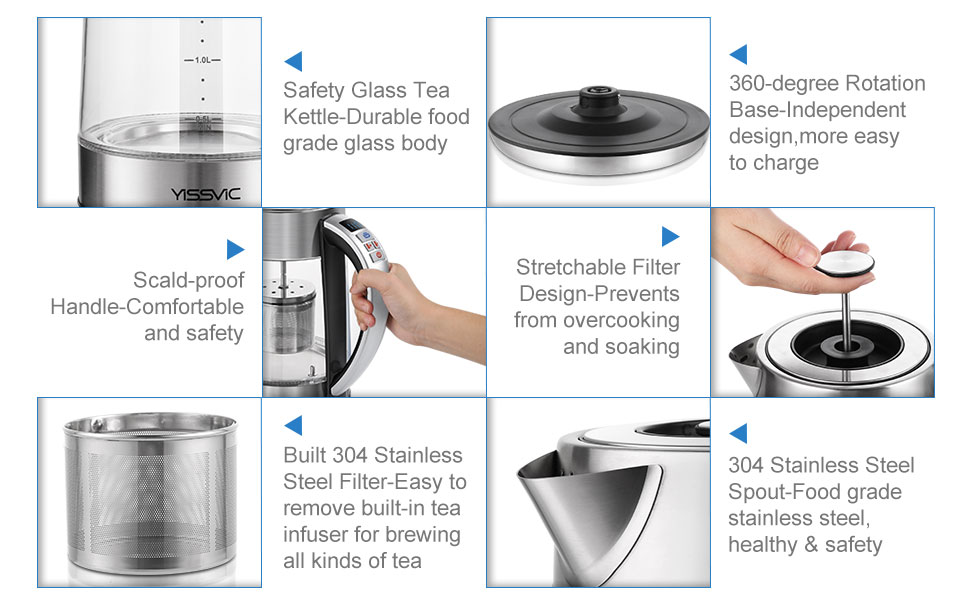 Simple Steps for Making Tea:
Pull up the removable infuser filled with loose tea leaf, then put the electric kettle on the power base, plug in to heat
When water is boiling, Put down the infuser to immerse the tea leaf into the water
Steep the tea leaf for few minutes, you can control the steeping time based on different teas and water temperatures.
Finally, Lift the infuser up then you can enjoy your tea time.
Note:
Remember to clean the infuser with a wild and damp cloth or cleaner, do not use chemical, steel, wooden or abrasive cleaners to clean the outside of the kettle.
Removal mineral scales: Fill the kettle full of water (mixed 3cups of white vinegar inside), let it stay overnight (Donot boil it).Then use a stamp towel to remove the inside stains. After that, fill the kettle with clean water and then pour the water. Repeat it and then the kettle is ready to use again.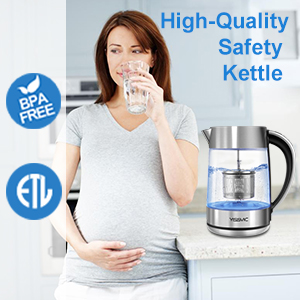 MAXIMUM SAFETY Water Kettle
All materials have passed the product safety testing.
Glass Water Boiler makes the scale nowhere to hide.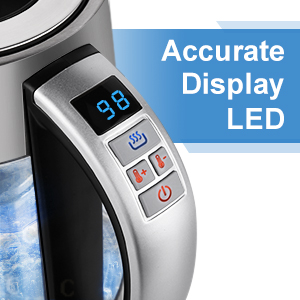 Blue LED Indicator
Noticeable Indicator helps you easily know the water boiling status.
Auto-shut off & Boil Dry Protection free your hands and eyes.
Packing List
1* Glass Electric Kettle with Lid
1* Power Base with 360° Swivel
1* Removable Infuser with Lid
1* User Manual